Instructors
Zack Uidl
Zack Uidl has been playing guitar for over 15 years. He has a passion for songwriting and teaching others the joys of music.
Through the years he has had experience as a guitarist, instructor, composer, session musician, author, producer and a mixing and mastering engineer. He is eager to share his knowledge with others.
Zack runs a streaming channel dedicated to sharing his talent and music as well as teaching and answering questions. Join us on twitch.tv/zackuidl.
In addition to teaching and streaming, Zack and his friend Seth Morris, a student of many arts, meet to discuss different topics of self improvement for curious minds, musicians and artists of all types on a podcast called Dissonant Harmony. Check it out at dissonantharmony.com
Lessons
One on one in person and online
Group classes (online and in person)
We have a range of options to fit people's needs. Whether you lead a fast on the go lifestyle or you have some time to spend, we will work together so we both win!
We offer group or one on one sessions as well as online or in person.
Grab a few friends and make it a group lesson and share the cost of tuition. Each student will have access to studio time and personal recording time.
We provide lessons for guitar, bass, piano, ukulele. In addition music theory is woven into each lesson to get a well rounded understanding of music and how everything works together.
Once you've learned the basics we introduce songwriting and recording. We try to cultivate a culture that celebrates creativity and have a safe place to be yourself!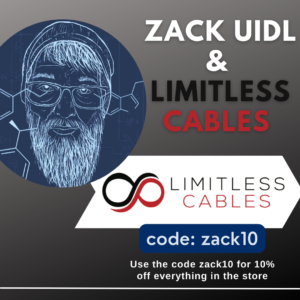 Zack Uidl proudly endorses Limitless Cables.
All of their cables are handmade in Tulsa, OK with high quality materials and a totally custom vibe.
They've researched and tested every cable and connector combo they could get our hands on and ended up with something really special that they know you will enjoy.
Zack Uidl proudly endorses Swiss Picks.
With similar values and having products that are amazing, Zack proudly endorses Swiss Picks! Swiss Picks is dedicated to producing the finest guitar picks from the finest materials in the USA. They strive to be the best… Anything less is simply unacceptable